Looking for something custom?
Contact me
to discuss your idea!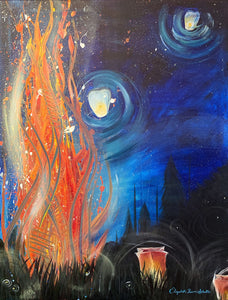 The coolness of a summer solstice evening by a fire. Wishes light the sky and the fire glows on the shortest night and longest day of the year. The wet dewy grass welcomes growth and renewal. Decorate any space with this beautiful reproduction of Summer Solstice painted by Elizabeth Pieroni Schulte. Note: The print itself is 11" X 17" and the artwork is 10.5" X 13.75". It can be easily matted to fit an 11" X 17" or larger size frame.