Looking for something custom?
Contact me
to discuss your idea!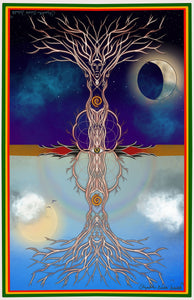 Live by the sun love by the moon. Aim for the sky keep your feet on the ground. Roots run deep. Inspired by the artists love of music and daring to believe in the beauty of her dreams. Decorate your space using this unique piece of art that can be displayed both sunny side up and moon side up depending on your mood. Note: The print itself is 11" X 17" and the artwork is 10.5" X 16.25".