Looking for something custom?
Contact me
to discuss your idea!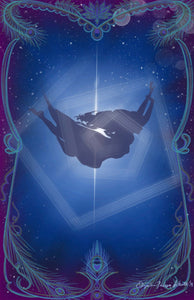 Into the blue, soaring to the sun, taking a leap of faith, diving into the blue. Daring to dream the impossible dream decorate your space with Into the Blue and remind yourself to reach for the stars, celebrate life and smash through the glass ceiling. Anything is possible with love. Note: The print itself is 11" X 17" and the artwork is 10.5" X 16.25".